Tanagra
Markdown Book Pipeline Tool
Tanagra is a documentation pipeline tool for building a template for a markdown-based book, generating a directory and file structure based on an outline, and then converting markdown files into HTML, PDF, and EPUB books using Pandoc.
In short, Tanagra works like this:
You tell Tanagra where you want to start a project and it creates the necessary files.
You create an outline and Tanagra converts that outline into a directory and file structure for that book.
You write your book in markdown.
When you're done with your book, you tell Tanagra the format (PDF, EPUB, or HTML) in which you'd like to publish your book.
You distribute your book to lucky readers! :)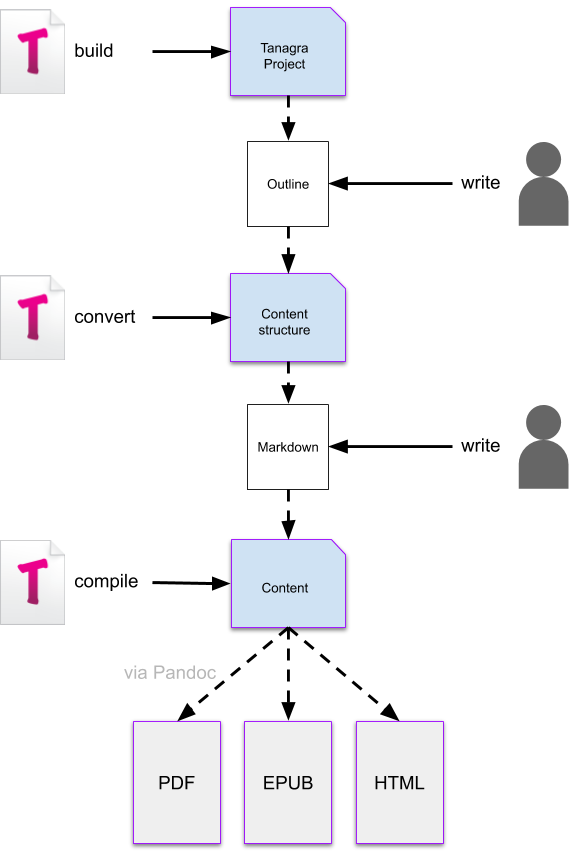 The Tanagra workflow from project creation to generated e-book!
"Tah-NAH-grah"
It's pronounced tah-NAH-grah as in "Darmok and Jalad at Tanagra." Hear it pronounced: The Enterprise meets the Tamarians
Why Tanagra? Well, it's a great episode and it's about learning to communicate and translate. The Tanagra script is about facilitating communication and translating one format into another.
Download Tanagra
Tanagra is currently in pre-stable-release mode.
Download the latest release here: Tanagra releases
You can also clone the git repository here: Tanagra git repository
Get Started
Please read the Tanagra documentation.
---